Easy Recipes using Singing Bowl Granola
Posted by Jessica Duncan on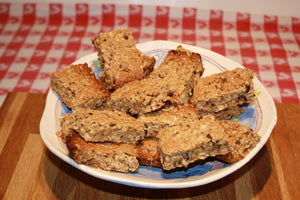 Prep time: 10 minutes Bake time: 15-20 minutes Total time: 25-30 minutes Yield : INGREDIENTS 1 cup natural nut or seed butter ½ cup local honey 1 ½ cups Singing Bowl Granola Mega Medley granola 1 ½ cup organic quick oats ¼ cup Level Ground Trading organic Cacao Nibs   These are incredibly easy to make. They are also super healthy, and oh-so delicious. I use the Mega Medley because it is loaded with healthy super seeds and coconut oil. It is full of protein, omega oils, great flavour, and fiber. These granola bars are great for a mid-morning pick-me-up,...
Posted by Gavin Duncan on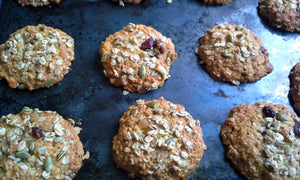 These healthy, hearty cookies are filled with nourishing whole grains, dried fruits, nuts and seeds. Breakfast, tea or coffee break, these wholesome cookies will sustain you for hours. You can use any variety of Singing Bowl Granola — we particularly like Morning Chorus in this recipe.   Ingredients  3 cups Singing Bowl Granola (Morning Chorus) 1 cup butter, room temperature 3/4 cup brown sugar, agave nectar or maple syrup (or sweetener of your choice) 2 large eggs 1 teaspoon pure vanilla extract 1 cup unbleached all purpose flour or whole wheat flour 1 tsp. baking powder 1 tsp. baking...
---